The content depends on the selected pack.
3 x 330g package:
1x Culture Kimchi vegan (330g)
1x Culture Kraut Gold (330g)
1x Culture Kraut Pink (330g)
6 x 330g package:
2x Culture Kimchi vegan (330g)
2x Culture Kraut Gold (330g)
2x Culture Kraut Pink (330g)
Information about fairment Culture-Kraut
Curtain up for our cultured kraut sample package!


Wildly fermented, without additives and not pasteurized, the cabbage provides not only a lot of vital substances, but also a lot of probiotic power.

Spicy and lively, the cabbage goes well with any meal. Perfect as a side dish to all kinds of dishes or just to enjoy on their own. Best enjoyed cold.
Product with German labeling.
Culture Kimchi vegan

Kimchi, probably the most famous ferment from Asia and the national dish of Korea has very healthy nutritional values and a unique, great taste. Kimchi is sour pickled Chinese cabbage and is composed differently depending on the region and family in Korea. At Fairment, we use Chinese cabbage, leeks, garlic and ginger. We deliberately avoid fish sauce, soy sauce and too much chili, so we can offer you a soy-free and vegan and mildly spicy kimchi.


Culture Kraut Gold

Golden Kraut is the Ayurvedic interpretation of German sauerkraut. Golden Kraut is based on white cabbage. Combined with turmeric, ginger, carrot sticks and fenugreek seeds, it takes on its bright, golden yellow color.


Culture Kraut Pink

Our Pink Power cabbage is a mix of white cabbage and red cabbage with a nodule of ginger for extra freshness. Organic garlic in collaboration with a few pinches of cilantro provide the unique flavor.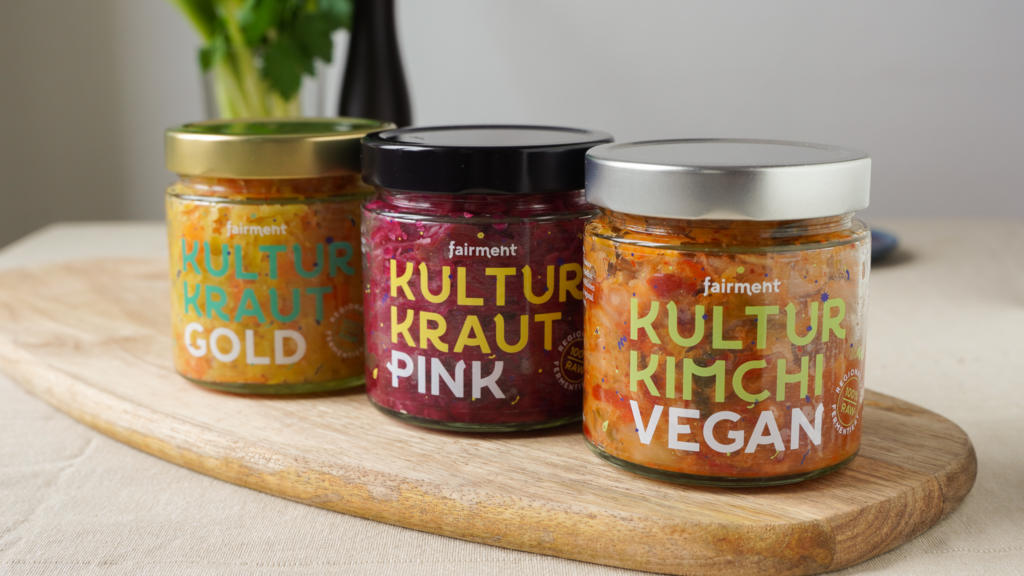 Ingredients
Culture Kimchi vegan
Chinese cabbage* (92%)
Ginger*
Salt
Garlic*
Paprika*
Chili powder*
*from controlled organic production
Culture Kraut Gold
White cabbage* (77%)
Carrots* (19%)
Ginger* (2%)
Turmeric* (2%)
Spices*
*from controlled organic production
Culture Kraut Pink
White cabbage* (73%)
Red cabbage* (24%)
Salt
Ginger*
Garlic*
Spices*
*from controlled organic production
Nutritional values per 100g
Culture Kimchi vegan
Energy: 102kJ | 24kcal
Fat: <0,5g
thereof saturated fatty acids: <0,1g
Carbohydrates: 2,6g
thereof sugar: <0,5g
Protein: 1,3g
Salt: 2,2g
Culture Kraut Gold
Energy: 116kJ | 28kcal
Fat: <0,5g
thereof saturated fatty acids: <0,5g
Carbohydrates: 3,5g
thereof sugar: <0,5g
Protein: 1,3g
Salt: 1,8g
Culture Kraut Pink
Energy: 102kJ | 24kcal
Fat: <0,5g
thereof saturated fatty acids: <0,1g
Carbohydrates: 2,7g
thereof sugar: <0,5g
Protein: 1,2g
Salt: 1,8g